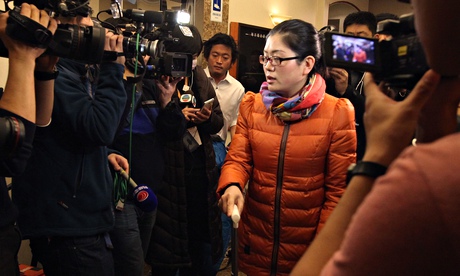 A technical fault, disintegration, or terrorism are among possibilities under scrutiny as search for wreckage continues
If a technical fault or pilot error is behind the disappearance of Malaysia Airlines flight MH370, any answers are unlikely until the plane is found – and even then, previous incidents suggest that a definitive explanation could be some time away, with first wreckage and then a flight recorder needing to be located, potentially deep beneath the sea.
For now, all theories are highly speculative – but possible explanations include:
Midair disintegration
According to some aviation experts, the disappearance of the plane from radar screens just 40 minutes into its flight from Kuala Lumpur to Beijing in the early hours of Saturday morning, with the extraordinary lack of any warning or communication from the flight deck, suggests a sudden, catastrophic incident – although there is no other evidence to back up the idea a bomb was aboard. Some suggest the fact that widespread searches have yet to make any confirmed discovery of wreckage makes it more likely that the aircraft disintegrated high in the air, rather than breaking up on impact with water.
Technical failure
At cruising altitude in good weather, even total loss of engines would have given time for pilots to make an emergency call. This particular aircraft had flown more than 53,000 hours without problem – bar a collision on the ground in 2012 that damaged a wingtip – and had its last maintenance check within the last fortnight, on 23 February, a routine appointment that showed nothing unusual.
Intentional ditching
A further theory is that the plane was deliberately steered into the sea, under duress by a hijacking of the kind seen in the 9/11 attacks, or by the pilot committing suicide. The latter factor has never been formally acknowledged in a major incident, but was widely believed to have been behind the 1999 EgyptAir crash which killed 217 people and a SilkAir crash in Indonesia that claimed 104 lives two years earlier.
A combination of events
The nature of the incident as understood so far has for many evoked the crash of Air France's flight 447, which similarly disappeared in the seas, out of radar contact and in the middle of the night, in June 2009. It took days for authorities to locate the wreckage and almost two years before the flight recorder was retrieved, finally allowing investigators to piece together what had happened. On that occasion, the black box evidence showed a combination of unusual circumstances – affected instruments, faulty readings and, largely, human error on the part of the pilots. In the small hours of the morning, experienced pilots became sufficiently disoriented to make decisions that stalled the plane and sent it on its way down, only realising in the very last moments how serious the problems were.